By Wendy Holdren, The Register-Herald See the Original Article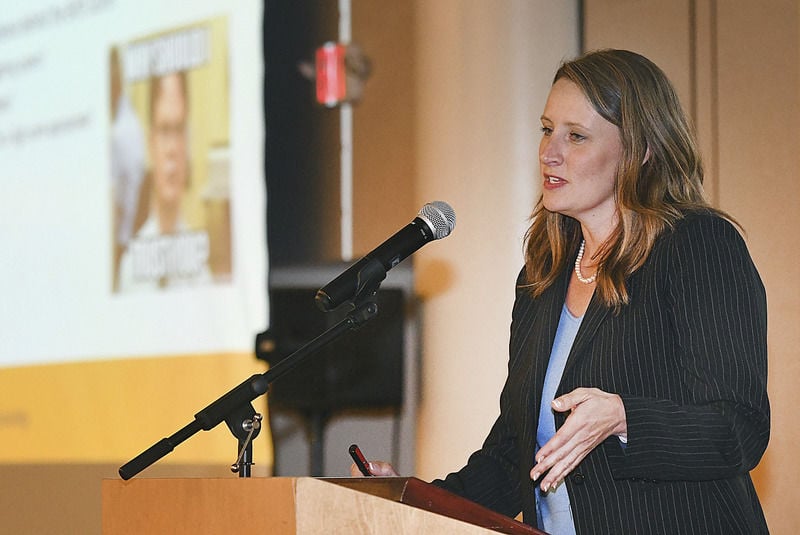 Photo by: Rick Barbero
Smoking and breast feeding are two major areas for perinatal health improvement in southern West Virginia.
As part of Wednesday's conference "Focus on Perinatal Health — Strengthening Regional Partnerships to Improve Outcomes," Candice Hamilton, assistant director of Project WATCH, reviewed a number of statistics for Region 1, which includes Mercer, McDowell, Monroe, Raleigh, Summers and Wyoming counties.
Of the state's eight regions, Region 1 ranks No. 4 for both pre-term birth and low birth weight.
But the region ranks worst in the state for the number of mothers who breastfeed, the number of mothers who intend to breastfeed, and the number of mothers who smoke.
The data showed more than 27.3 percent of women in Region 1 had smoked during pregnancy.
Smoking during pregnancy isn't just a southern West Virginia issue — no region throughout the state had a rate of smoking during pregnancy lower than 23 percent.
Dr. Timothy Lefeber, assistant professor of pediatrics at WVU School of Medicine, said 24 percent of pregnant women smoke on average in West Virginia. If the woman is a Medicaid recipient, the average increases to 38 percent.
Nationally, the pregnancy smoking rate is 9 percent.
"We have a state where a lot of people smoke," Lefeber said. "We need to protect the most vulnerable population — children."
Lefeber said research shows 22 percent of sudden unexplained infant deaths (SUID) could be prevented if women didn't smoke while pregnant.
Not only are pregnant women in West Virginia smoking at higher rates than the national average, but so are high school students and adults in general.
The national average for high school smokers are 8.1 percent versus 14.4 percent in West Virginia, and the national average for adults is 14 percent compared to West Virginia's 26.5 percent.
Vaping or e-cigarettes are also a growing concern, Lefeber said. Nationally, one in 20 middle school kids are currently using e-cigarettes.
He encourages legislation that would increase the legal smoking age to 21. A bill progressed this year in the West Virginia Legislature, but ultimately failed.
Lefeber said it's easier to never start smoking than it is to quit. On average, it takes a smoker five attempts to quit before they're successful.
He shared motivational interviewing techniques with attendees to help encourage smokers to quit.
"Interact with a person in a way that increases motivation. That makes them want to change their behavior," he said. "Don't make people feel bad about their behavior."
Lefeber said it's essential to engage people, to not be judgmental, and to let them tell their story.
• • •
Hamilton, who is also the executive director of the West Virginia Chapter of the American Academy of Pediatrics, said the primary objective of Project WATCH (formerly West Virginia Birth Score) is to coordinate an infant risk screening system to identify babies at greatest risk of death in first year of life, and link them to supports and services.
The "score" is a snapshot of risk factors for a baby's wellbeing, including information such as birth weight, maternal age, maternal education levels, smoking, substance exposure, gestational diabetes and more.
"This is a unique tool to West Virginia," she said, noting the program was initially a pilot study from England. "South Carolina has reached out to create a similar program with our methodology."
If a child has a high birth score, they're referred to supports. Families who receive Medicaid are referred to Right from the Start, and families with other insurance are referred to HealthCheck. For a child with developmental issues, referrals are made to West Virginia Birth to Three.
Referrals are also made to pediatric physicians.
"The goal is to improve outcomes for these families," Hamilton said. "You can intervene with services if you know more."
She said her organization is working to create policies that protect mom and baby, as well as policy around universal screening.
Hamilton noted that while birth score data collection has improved, some hospitals still screen differently. A universal screening method would yield more accurate data.
She encouraged the attendees to provide as much education to families as possible, and to build relationships with area hospitals.
"We're a small state. We have an opportunity to work close together."
From May 1, 2018, to April 30, 2019, there were 1,605 births in Region 1, which is home to three birth facilities – Raleigh General Hospital, Bluefield Regional Medical Center and Princeton Community Hospital. These births account for 9 percent of total births in the state — 17,571.
— Email: wholdren@register-herald.com and follow on Twitter @WendyHoldren
Related Resources
Recent news
Contact
Amy Tolliver, Director
West Virginia Perinatal Partnership
(304) 558-0530 ext. 5
atolliver@wvperinatal.org