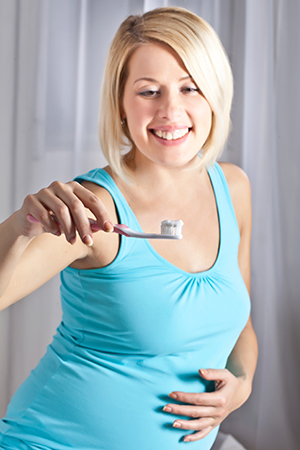 A healthy mouth means a healthy body and one cannot be healthy with an unhealthy smile. This is especially true during pregnancy. Over the past 10 years, the science supporting an association between good oral health and positive birth outcomes has increased. The WV Perinatal Partnership's Oral Health Committee is part of a national movement that is committed to improving birth outcomes by improving oral health.
The Oral Health Committee is:
Working with prenatal care health professionals to properly assess and advise pregnant women about proper oral health, and encourage collaboration with oral health professionals.
Working with dental professionals to provide comprehensive oral health care throughout the pregnancy.
Working with the community to educate the general public on the importance of good oral health during pregnancy and throughout the first years of life with an emphasis on the age one dental visit.
Why Oral Health?
Pregnancy is a unique period during a woman's life and is characterized by complex physiological changes that may adversely affect oral health. At the same time, oral health is key to overall health and well-being. Preventive, diagnostic, and restorative dental treatment is safe throughout pregnancy and is effective in improving and maintaining oral health.
Health professionals often do not provide oral health care to pregnant women, and pregnant women, some with obvious signs of oral disease, often don't seek or receive oral health care. In many cases, neither pregnant women nor health professionals understand that oral health care is an important component of a healthy pregnancy.
Educating pregnant women about preventing and treating dental cavities is critical. Evidence suggests that most infants and young children acquire cavity-causing bacteria from their mothers. Providing pregnant women with counseling to promote healthy oral health behaviors may reduce transmission of such bacteria from mothers to infants and young children, thereby delaying or preventing the onset of cavities.
Related Resources
Related Links
Related news
Contact
Bobbi Jo Muto, RDH, BS
Special Projects Consultant, Oral Health
(304) 542-9592
bjmuto.steele@marshall.edu